Laminate Flooring - Expert Installations - Get Your Online Quote!
Professional Installation
Get a wide selection of Laminate Flooring from your local based Local Pro. Choose from a variety of colours and designs. Whether you're looking for Laminate Flooring for your home, business, hotel, or retail space, we have you covered.
Why Choose Laminate for your floor?
Laminate floors are made up of various wood-based materials that are bonded together and then covered with a photographic impression on the top of each board. Laminate flooring is much easier to install when compared to solid-wood hardwood floors.
If you want a real wood texture Laminate Flooring is the best choice, it does not only look good but also possesses heat-insulating qualities.
Laminate flooring Types
Laminate flooring that does not need glue
Laminate flooring that has been glued together
Laminate flooring that has been pre-glued
Laminate flooring that does not need glue
With the Glue-less laminate flooring, no glue is used. Our team is able to use the right method to affix the planks to the floor.
Laminate flooring that has been glued together
The seams on glued laminate flooring must be bonded together, making this kind of installation very robust.
Laminate flooring that has been pre-glued
The adhesive is already applied to pre-glued laminate flooring, so the planks are simply snapped into place; however, some of the edges must be moistened to activate the glue.
This installation technique is simple and fast.
What are some of the advantages of laminate flooring?
Functional
Trendy
Cleaning is a breeze
Various hues
There are many styles available
Durable
Cost-effective
Frequently Asked Questions
How long does Laminate flooring last?
Laminate flooring is less vulnerable to wear and tear from dogs and foot traffic since it is so resilient.
Is it possible to put laminate flooring over heated floors?
Radiant heat floors are not an issue for laminate flooring.
What is the best way to clean laminate flooring?
Sweep the floor with a soft broom or vacuum with the hard surface vacuum cleaning attachment, then mop with a wet sponge mop.
Is it necessary to use underlayment with laminate flooring?
Underlayment is critical because it provides stability and support, minimizes noise, and supports the plank locking mechanisms.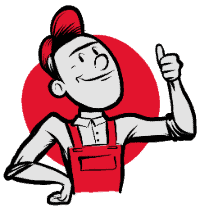 Laminate Flooring Costing Information​