Skip Hire- Delivery and Collection
Safe Disposal of Rubble and Waste
Are you stressed and overwhelmed with a large amount of waste and nowhere to dispose of it? Contact us! The process is easy – we provide you with the skip, you fill the skip with your waste and we collect, it's as easy as that!
You can make use of our skip bins for the following:
Garbage from shops
Property junk
General garbage
Backyard refuse
Event garbage
Leftover metal
Demolition garbage
Dust and soil
Skip Hire
Forget making many visits to the dump with your garbage and junk! Simply complete the online form, pick your delivery and collection dates, and we will do the rest.
Our regular turn-around time is 2-days but you can keep the skip for longer too.
Domestic Skip Hire
Have too much waste for your local municipal waste collection? Choose a skip! We will drop it on your property and collect it once you have filled it
Our residential skips can be used for the following:
Lawn waste
Restoration waste
Spring cleaning
General waste
Commercial Skip Rentals
Industrial Skip Hire
Use skip hire for industrial properties as well. Skips are not only the more economical option but are also a great method of hygienically disposing your waste.
You can keep the skip at your premises for as long as you need and we will collect once it's filled.
Our industrial skips are perfect for the following:
Lawn services
Restaurants
Workplaces that are being refurbished
Companies that generate lots of waste
Shops
Renting a skip for a construction site
Rubble and construction waste removal from building sites is not only difficult to remove but can also be very costly. We have a variety of different size skips to choose from, depending on the amount of rubble you would like to remove.
Skip Sizes
A variety of different skip sizes are available, these will depend on the amount of rubble you would like to remove.
Our skips can accommodate any amount of rubble and waste, they come in 3 user-friendly sizes:
Mini (2 cubes)
Midi (6 cubes)
Maxi (11 cubes)

You can choose mini skip bins for garden waste removal. It can keep 2 Venter trailers worth of waste
Midi skip bins are best for industrial purposes because they can keep 30 of your local municipal waste collection bins worth of waste.
Maxi skips can easily keep 2 midi skips worth of building and construction waste.
Skip Delivery and Collection in
Skip delivery is available for as long as you need.
Give us a call or fill the online form to get a free estimate for skip hire.
Skip Rental Price
The price of skip rental is based on the size of the skip as well as the amount of time you hire the skip for.
For a 2-day leasing, you need to pay:
Mini (2 cubes) skip: R 700
Midi (6 cubes) skip: R 1500
Maxi (11 cubes) skip: R 2800

Dump your waste responsibly
We dispose of your waste responsibly, keeping the environment in mind.
The waste which cannot be repurposed will be taken to a certified landfill dumping ground and the recyclable waste will be taken to a dedicated plant.
We will never illegally dump your waste.
Who Should Rent a Skip?
Anyone who has more waste than your local municipal waste collection can handle will benefit from our skip rentals. Apart from saving your time and money, skip rentals are perfect for:
Enormous amounts of waste from nearby events, eating places, or stores
Waste accumulated from building and construction projects
Domestic waste and garden waste
Items Allowed in your Skip
You can put any form of garbage or rubble in the skip if it is not unsafe. Thereafter, we will make sure that the waste is dealt with properly at a recycling plant or at a disposal area.

---
Frequently Asked Questions
In which local areas do you transport the skips?
Our professional services are provided in your area. Just call us to collect the skip when it is loaded – yes, we make it that easy
What if I keep the skip for a much longer period?
Skips are not confined to days, so you can keep them for as many days as you want. Some of our clients rent out skips for 24-48 hours, and some keep the skip for a few weeks. The number of days or weeks you have the skip will determine the cost of the skip hire.
What should I put in the skip?
Always avoid keeping hazardous waste in a skip. We dispose of the waste in a place which is not close to any residential area. We legitimately dump non-recyclable waste at a garbage dump.
How do I know what size skip I need?
If you need a skip for household/garden waste, a mini skip is often best as it can serve 2 Venter trailers' worth of rubbish. Midi skips are great for business waste due to their 3X sizing than mini skips while maxi skips are great for dumping building and construction site waste.
We will love to examine your waste extraction requirements and recommend a skip sizing: just complete the form here!
Why would I need to rent a skip in place of a truck or bakkie?
It is considered as the most economical way of getting rid of waste. You will save time because we will collect the waste from your office or home.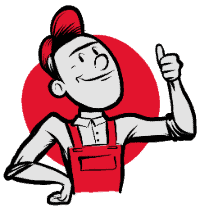 Skip Hire Rental Costing Information​
Skip hire rental is a convenient solution for managing waste for a wide range of projects. Prices for skip rental…