Are you building a new home or replacing your old gutters? If that's the case, we recommend seamless gutters over other guttering solutions since they offer so many more benefits. We can answer any questions you have about seamless gutters and give you a free, no-obligation quote for your home.
Why Choose Seamless Gutters?
The following are some of the most common advantages of seamless gutters:
Seamless gutters are lightweight and ideal for replacing sections of guttering, making repairs, or installing a new system.
Seamless gutters are more streamlined when compared to traditional gutters, and they look much nicer on your home or structure.
Because seamless gutters have a hidden suspension system, they can raise the value of your home.
They're extremely adaptable and are a "one-size-fits-all" system, which means they may be readily and rapidly installed to any structure or home.
Gutters that are seamless are less likely to leak.
In the long term, they are far more cost-effective.
Water damage to your home or structure can be avoided with high-quality aluminum seamless gutters, which are a major issue during the rainy season.
Seamless gutters (and their components) are rust-resistant and, as a result, endure far longer than traditional gutters.
We are committed to providing you with the best value for your money while also providing outstanding customer service.
Our seamless gutters are:
installed in a single day
come in a variety of appealing colors and offer your structure a more upscale appearance
are low-maintenance, and
are backed by a 15-year warranty
We can also install downpipes and fascia boards, as well as repair your gutters if necessary.
---
Aluminium Gutter Colour Options and Sizes
Our top-of-the-line aluminum gutters are available in a variety of sizes and colours in Durban and surrounds.
The following colours are available:
Depending on whether you need seamless guttering for your home or business, we have the following sizes available:
Residential/domestic (125 mm)
Industrial/commercial (150 mm)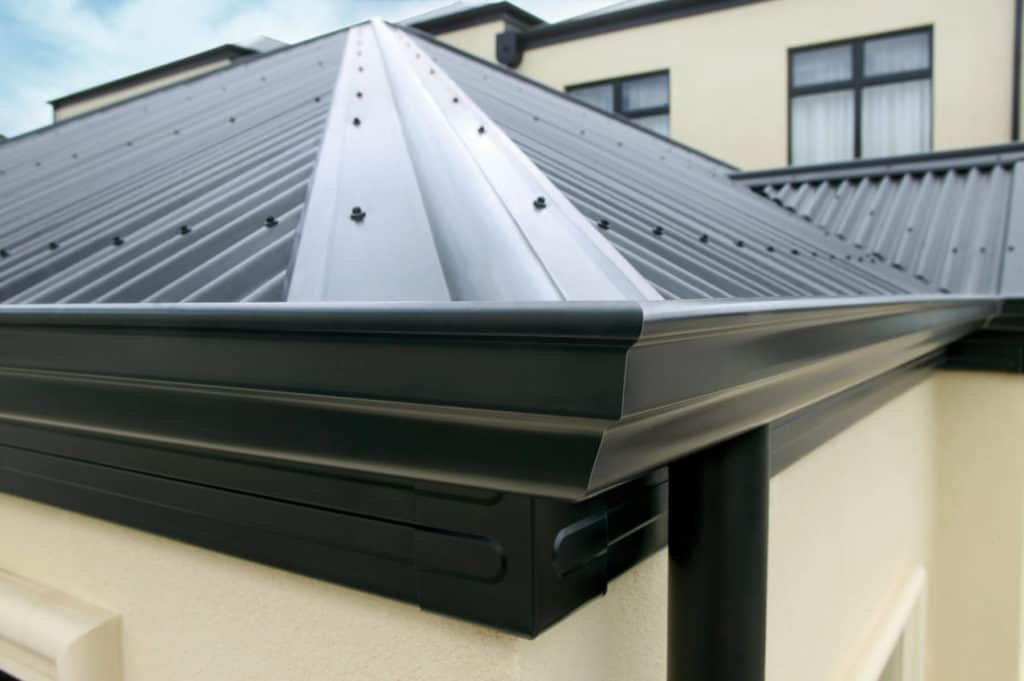 Gutter Maintenance
The earlier styles of gutters required a lot of upkeep and maintenance. Our new seamless gutters require very minimal upkeep.
Seamless gutters are composed of high-grade aluminum and will never rust. If they are next to a tree, you may need to remove them once a year.
Domestic Gutters
Seamless gutters could give your home a new lease on life! Our 125 mm seamless gutters are available in black, brown, white, or beige and come in a variety of colours.
Simply contact us for a no-obligation quote, and we'll get your new gutters installed as soon as possible! Our teams are on the road in and around Durban.
Commercial Gutters
Clients' first impression of your business is based on the look of your building. Improve the appearance of your building and install seamless gutters to ensure that you always provide a professional first impression.
Seamless gutters are available in a variety of colours and sizes, with some of the most popular colours being:
Black
Brown
Beige
Green
White
Fill out the form or call to talk with a local representative to learn how much a new seamless gutter installation will cost.
Frequently Asked Questions
What are seamless gutters?
Seamless gutters are the most recent innovation in guttering, and they fit your home or building almost perfectly. Because the gutter corners are cut to size, there are no bulky joints where they meet, giving the building a more upmarket appearance.
Why are your seamless gutters rust-free?
Because our seamless gutters are made of top-grade aluminum that does not rust, they are rust-free. As a result, our seamless gutters are built to last a lifetime.
How long does the installation process take?
Our friendly and professional team usually take less than a day to fit your new, seamless gutters.
Do seamless gutters really make a difference?
Yes, they certainly do! Apart from improving the appearance of your home or business, they also provide a number of advantages, such as being almost leak-proof and lasting far longer than standard UPVC gutters.
How are seamless gutters fitted to the building or house?
Brackets are used to expertly attach seamless gutters to your home or building.
Why choose us?
With thousands of happy customers who adore their seamless gutters, many people believe that our product is superior since it is made from the highest grade of aluminum and adheres to the strictest workmanship and quality standards.
Our seamless gutters never warp and require no painting. They also never sag because they are roll-formed to the exact length of the building, and unlike normal gutters, they are not prone to leaks.
---