Tree Felling and Tree Removal Experts
24/ 7 Emergency Tree Felling

Obligation free quotation and site visit

Tree Removal, Tree Felling and Stump Removal
Have overgrown trees that need pruning? Work with a specialist right now! Our team of experts use the correct tools and methods to remove your trees safely without damaging nearby cables or wires, walls, fences or neighbouring properties. You can also contact Tree Felling Pros to find tree fellers near you.
Take away all remaining vegetation and rubble
Offer 24-hour tree felling services for emergencies
Fully insured
Take safety extremely seriously
If you choose to make use of our professional services, we will set up a site visit to evaluate the tree and provide you with a free quote.
Tree Felling Services
We offer the following services:
Tree pruning
Stump removal
Specialist tree felling services
Tree trimming
Palm tree services
We also offer 24-hour tree felling services for emergencies.
Tree Trimming and Pruning

We have a team of professional tree fellers that care about your property as well as your well- being. Our team can trim or prune your trees without causing damage. In order to maintain healthy looking trees we offer frequent tree pruning services by an expert, give us a call today or complete the online form.
Taking care of your Palm Trees
Does your palm tree look untidy and dangerous due to big leaves falling down? We can fix that.
Frequent services, maintenance and cleaning of palm trees is important to keep them safe and looking great.
Removal of Stumps
Tree stumps can take up valuable space and detract from the look of your home. Removing a tree stump on your own is not recommended, especially if you do not have the correct tools. We can assist you with the following:
Extraction of all leftover vegetation and wood chips
Grinding down of the tree stump with specialised tools
Complete removal of the tree stump, including roots
Frequently Asked Questions
Why shouldn't I cut my own Trees down?
There is a risk of you getting injured or causing damage to your property.
How long does it take to cut down a tree?
We estimate around 2 to 6 hours for removal. When we have chopped down the tree our tree fellers will ensure rubble is removed and the property is left immaculate.
Should I be Cutting Branches off my tree?
Yes, you are able to trim your own tree branches but if you have a tall tree on your property and do not wish to damage surrounding areas we would advise you hire a professional tree feller instead.
Reasons I shouldn't Remove my own Tree Stump?
Deep roots of a big tree are a problem to get rid. You can potentially hurt yourself so rather hire a tree feller to complete the job.
Will I really need permission to cut down a tree?
It depends, normally, if it is on your property, it should be fine. It would be advisable to check with the neighbours first. If the tree is on your verge, it means it belongs to the municipality and you will unfortunately require permission just before removing it.
The best Time of Year for Tree Felling
Trimming or pruning your trees during late winter or early spring is best, as new leaves and blossoms have not formed yet. Removing your tree during this time will be easier as the tree is considered dormant and will be lighter to carry away.
How to identify a healthy tree
The tree should be lush, green and the branches should be healthy-looking. There are a few red flags to look out for, some of these being dead branches, broken branches or weak bark.
Our tree fellers will evaluate your tree.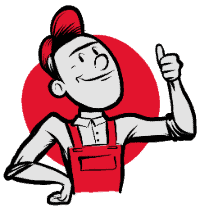 Tree Felling Costing Information​