Instant Lawn Supplied and Installed
Get a new lawn that is right for your property

Common Instant Lawn varieties available

Find out how much lawn you need just fill in the quote form today
Instant Lawn Suppliers across South Africa
Is your newly constructed home surrounded by barren earth? Do you have that barren patch that simply doesn't want to fill in? Is the grass that you sowed not looking good after the winter? You can have the perfect lawn quickly and easily by laying an Instant Lawn today. Our vetted instant Lawn partners offer:
Competitive prices and quick to establish lawns
Lawn varieties for all South African climates
Short wait times with on-site delivery
Let Local Pros connect you with leading Instant Lawn suppliers and installers across South Africa
How does Instant Lawn work?
Instant Lawn is farm-grown turf grass. The sod's top layer is harvested and sold in large squares. The consumer places these blocks where they want to plant grass. After planting, instant grass takes 4-6 weeks to establish.
Tips for planting Instant Lawn.
Planning your instant lawn project is essential for obtaining great results. We recommend planting instant lawn in spring or the first part of summer so the grass has some time to establish before winter.
Lawn should not be used during the first weeks after propagation.
Many factors will determine what variety of instant lawn to select, soil quality, availability of water, climate and the lawns intended used are just some of these factors. We recommend speaking to one of our partners before selecting a variety.
Have a soil evaluation done as this can tell you what species of grass will be suited to the soil and how to fertilize the soil.
Amend the soil according to the grass variety selected and the results of the soil evaluation.
Carefully measure the area where the instant lawn will be laid and request an additional 5% to ensure you have enough for the project
Remember to remove any existing plants from the underlay and make sure the soil is aerated, smooth, and level before laying the instant lawn.
Keep sod in a shaded area and moisten the sod until laying the sod. Preferable no more than 48 hours should pass from harvest to first watering after laying the sod.
Lawn should be watered directly after laying the sod to ensure that the sod has sufficient moisture and contact with the soil.
Hydroseeding service across South Africa
By being more efficient than traditional seeding yet more economical than installing an instant lawn, hydroseeding manages to strike a tough balance. Although the term suggests a very high-tech process, hydroseeding can be carried out by a professional lawn care business or on your own. Most people agree that working with a professional will yield the best outcomes, and they advise employing a corporation for their resources and experience.
To put it simply, hydroseeding is a procedure that evenly spreads a particular grass "slurry" across bare land in order to grow grass and stop soil erosion. The components of this slurry are grass seeds, mulch, water, fertiliser, and biostimulants.
This combination works well because the fertiliser promotes growth while the mulch anchors the seeds to the soil, shields them from the elements (such wind or excessive sunlight), and eventually decomposes to release more nutrients into the soil.
If you want hydroseeding done contact Local Pros today and we will connect you with a leading hydroseeding company in your area.
Grass Varieties Our Partners supply
Our partners offer different varieties for different climates and different uses:
Kikuyu Instant Lawns
Bermuda Instant Lawns
LM Instant Lawns
Buffalo Grass Instant Lawns
No matter in what climate you live our partners can help you choose the right Instant Lawn.
Choosing a Local Pros partner for your Instant Lawn project helps guarantee success.
Local Pros has chosen top South African Instant Lawn suppliers. We make choosing an instant lawn supplier easy. Our instant lawn suppliers:
Affordable, high-quality instant lawns.
On-site delivery and short wait times
Offer great guidance and after-sale advice
Has a range of grass varieties for all South African climates.
Can install the lawn for you or connect you with an expert.
Ensure that your Instant Lawn project is a success by working with a Local Pros partner.
How much does an instant lawn cost?
Depending on the area to be covered and whether delivery is needed, instant lawn prices can range from R20m2 to R30m2. The price of an instant lawn with delivery and propagation included can range from R40 to R60, depending on the site's prep work needs and size.
We recommend obtaining a quote from a Local Pros partner for an accurate price estimate.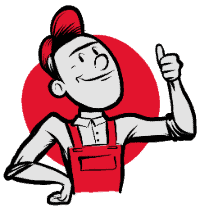 Instant Lawn Costing Information​
Time-poor? Dreaming you had a couple of extra hours to keep the garden looking great?

Outsourcing your gardening might be…

Do you hate the tedious task of mowing your lawn? Are you fed up with a lawnmower that does not…