Tumble Dryer Repairs
Quick and professional tumble dryer repair experts

A repairman will come to you.
Repairs and Servicing of all brands

Our contractors Repair and Carry Spare Parts for all Leading South African Brands.
Don't wait days to get a response
A Professional Tumble Dryer Repairman will Diagnose your Machine and Discuss the options for repair
Our Network of trusted tumble dryer repairman cover most of South Africa
Our dependable Local Pros Tumble Dryer Repair contractor will inspect your dryer and identify the issue right away.
After that, they will explain what needs to be done (such as replacing or repairing a part) and offer you a free quote. The majority of the time, they can swiftly resolve the issue and get you back up and running right away because they have a big selection of spare parts on hand.
What brands do our vetted contractors repair and service?
They repair all brands of tumble dryers, including:
Speed Queen
Defy
Bosch
Grundig
Samsung
Siemens
Whirlpool
Local Pros Network of Expert Tumble Dryer Repair Technicians
Generally, most major brands of tumble dryers will be very reliable for the first few years, but after a while, they tend to start giving problems. Most failures are an easy fix for one of our vetted Local Pros Tumble Dryer repair contractors. We have a large network of repairmen that you can trust. They also keep a large amount of parts on stock and will be able to fix most problems easily and affordably.
Below we have listed some of the common problems that you may encounter:
Not working at all
Drum isn't spinning
Door not closing properly
Clothes aren't drying properly
Making strange sounds when on
Taking too long to dry clothes
If you are experiencing any of the above or any other problem with your Tumble Dryer contact us today. Complete the online form or give us a call today and we will put you in touch with the best Tumble Dryer Repairman in your area.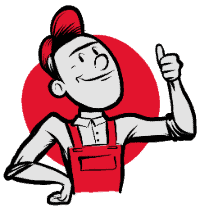 Tumble Dryer Repairs Costing Information​
Our tumble dryer repair services guarantee transparency in pricing. We believe in providing you with detailed information to help you…