House Cleaning Services - Once off and Recurring Maid Cleaning
Free your time and relax while your house is cleaned

Fully vetted and trained cleaners you can trust

Bring all our own chemicals and equipment
Keep a Spotless Home with Our Residential Cleaning Services
As a homeowner, you have a lot to do. We also don't believe you should be responsible for keeping your home pristine and clean on your own.
Rather than wasting your valuable free time sweeping, scrubbing, and mopping, relax in a sparkling and comfortable home professionally cleaned by one of the Local Pros Cleaning Agents.
Once off and regular cleaning options
If you're just looking for a one-time cleaning service to impress your guests, wow the in-laws, or just get things back in order after a wild weekend, we provide one-time cleaning services as well as contract daily or weekly cleaning.
Environmentally Responsible Home Cleaning
All of our cleaning services for homes are powered by by-products that are safer for your family and home, including any children and pets! Our crew can offer an outstanding clean while keeping toxic cleaning chemicals out of your home thanks to these ecologically friendly options.
What Does Standard House Cleaning Service Include?
A typical house cleaning covers all of the important sections of your home, including the bedroom, kitchen, and everything in between. This includes any unique spaces, such as playrooms, home gyms, or workplaces.

Our staff vacuums all carpets, rugs, and flooring with each service. Any tile, wood, vinyl, or laminate flooring will be cleaned according to the material's specifications. We also dust, wipe, and clean all of the surfaces in the house. Furniture, counters, entrances, and décor are all included.
Dusting and wiping down
To keep your home clean and sanitary, our team wipes down practically every hard surface. Rather than wiping away dust after it has settled, our team will regularly dust surfaces and items to help reduce the amount of dust in the environment for you and your family to enjoy. We pay extra attention to cleaning the areas of the house that collect dust often. Dusting can help reduce indoor allergens and enhance your home's indoor air quality.
Furniture, Shelves, and Décor – Dust can be found on almost any household object. Wiping down and dusting furniture, shelves, and décor as part of our regular service is done with the utmost care and regard for your personal objects and belongings.
Window Ledges and Blinds – All window ledges, curtains, blinds, and other window treatments will be dusted by our crew. This will help to extend the life of your windows and their coverings.
Lamps, Light Fixtures, and Ceiling Fans -Tall lamps and ceiling fans are among the most challenging items in the home to dust. Our crew has everything they need to securely clean those hard-to-reach dust hot spots that are sometimes overlooked.
Doors and Doorframes – Our crew will clean the doors and doorframes in your home as part of our domestic cleaning services. This helps to get rid of any smudges, fingerprints, or microorganisms that have accumulated.
Glass Surfaces – We'll utilise proven procedures and solutions to offer clear glass surfaces in your house, whether it's a mirror, table, or patio door. This allows you to see your surroundings clearly.
And More – Our experts can dust practically every object or location in the house, from cabinet ledges to air vents. You can feel confident that your customized cleaning plan will leave you with a dust-free space with each service. We can wipe down almost anything in the house with our general cleaning services, including small and large appliances, doorknobs, light switches, and other locations as needed.
Vacuuming
Our cleaning professionals will provide vacuuming services that will ensure you never have to vacuum again! Whether you have carpet, rugs, or the dreaded carpeted stairs. Our staff will vacuum your floors, carpets, rugs, and stairwells on a regular basis, removing any debris or soil trapped in the fibres. This enhances the quality of your indoor air and increases the life of your various floor coverings.
Sofa and Other Upholstered Furniture – Just like your home's flooring, it's critical to vacuum your upholstered furniture on a regular basis. This preserves both your furnishings and the quality of the air in your home
Mop and scrub floors
We'll bring everything we need to mop your home's floors, from the kitchen to the bathroom. This assures a thorough cleaning that leaves everything looking – and smelling – brand new! We know how to take care of and clean all kinds of flooring from tiling to laminate and hardwood.
General tidy and clean
Of course, we don't stop there. The following are just a handful of the extra cleaning services we provide to our customers.
Clean Out Cobwebs – Are there cobwebs on your ceiling? Leave it to our team to deal with them because they may be both terrifying and unpleasant. From the ceiling to the baseboards, we'll rid your home of cobwebs.
Our team can help tidy up areas of your home – Like the bedroom, living room, or entryway shoe rack to keep things as tidy and organized as possible.
Door Handles and Light Switches – On a regular basis, our crew disinfects door handles, light switches, and other frequently touched surfaces in the residence. This safeguards your entire family by eradicating any potentially harmful bacteria or viruses from the surfaces.
Straighten Pillows and Linens – Who has time to make their bed when they have to leave in 10 minutes? Before you return home, our team will straighten pillows and linens in the house to ensure that everything is as ordered and neat as possible.Empty and Replace Garbage Bags – We'll empty and replace all of your garbage bags for you, regardless of which room you're in. This greatly simplifies rubbish collection!
House Cleaning Companies
If you are looking for a cleaning company for your home look no further. Fill in the form and Local Pros will put you in touch with the best House Cleaning Company in your area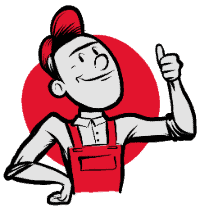 House Cleaning Costing Information​
Keeping your house clean and tidy can be a demanding task, especially with a busy schedule. In South Africa, the…