Wendy House Builders
Affordable & Low Maintenance Costs

Faster building time & Premade options available

Affordable & Low Maintenance Costs
Looking for an affordable building solution? Wooden Wendy houses are versatile and affordable. From small garden, tool sheds to fully functioning houses we can build it for you.
Why Choose a Wendy House?
More affordable than brick and other building methods
Faster building time
Premade options
Build on steep or difficult locations
High quality – Neat & Tidy
Low Maintenance
Weather resistant
Quick delivery of popular sizes
Wendy house large and small options
Our national agents manufacture and supply Wendy Houses, Sheds, Security Huts, Workshops, Log Cabins, Dog Kennels, Site Offices, Classrooms and much more.
Wendy House Garden Sheds
The perfect spot to store those garden tools or kids toys. One of the most popular forms of a wendy house are wendy house garden sheds to store anything from tools to full workshops. They come in a range of sizes from small 1.8×1.8m to large 3.6×7 metres big enough to fit a car.
Nutech Wendy Houses
Nutec is the brand name for a particularly high-quality cement fiber board. The boards are used to clad Wendy cottages and garden shelters in place of typical pine planks. Houses built with Nutec will last longer and require less maintenance than standard pine-clad houses, but will cost more to build. Talk to one of our agents to find out which is the right choice for you.
Security and guard houses
Quick to put up and cost effective means a wooden wendy house is perfect for Guard houses. One of the agents can give you a free quote for your custom or standard size guard hut.
Chalets and Accommodation
Get your quote for custom built chalets and other accommodation in all major areas in South Africa. Built with or without partitions and other add-ons such as plumbing and electrical.
Site offices
Get a quick building erected with everything you need for your building site office. You can even have an aircon installed for comfort.
Log cabins Style
If you have the extra budget and want a higher quality finish then why not go with a log cabin style using thicker wood which is better for insulation and a great look.
Add-ons and customizations
There are many things that we can add onto your wendy house to make it fit your needs. If you want to use your Wendy House for accommodation then we can add both plumbing and electrical connections. If you want a veranda patio with a roof we can do that.
Additional rooms
Windows, doors, sliding doors
Bathrooms
Kitchens
Electrical connections and fixtures
Patio and decks
Roof insulation
Wendy House Sizes and Specifications
Pressure treated floor bearers and framing are standard on all of our Wendys and Sheds. A protective sealant is also applied to defend against the sun and rain. You can choose from a range of sizes or have your Wendy house or shed custom made to your specifications.
Our Standard option is made of 16 x 95mm tongue and groove Pine for the walls and 16mm tongue and groove Pine for the floor (available in 1.8m / 2.1m wall height). They all come with an 800mm wide door and a corrugated iron roof as standard.
Other common specifications, please note these are subject to change and area, these are just guidelines.
Floor
The standard floor is made of 20mm tongue and groove SA wood that is spaced 400mm apart. The nails on the floor are 3 inches long. Floor thicknesses of 22mm and 32mm are available upon request.
Walls – Exterior
These panels have been prepared to withstand all types of adverse weather, including rain, mist, and snow. Termites of all kinds are likewise protected by the therapy.
Walls – Interior
The panels can be gladded with 16mm or 22mm knotty pine, rhino or nutec boards, or 6mm or 12mm rhino or nutec boards. Nutec boards are also waterproof and can be installed in a bathroom or toilet. In the bathroom, we can also cover the walls with knotty pine and lacquer them according to the client's wishes.
Internal walls and finishes are either S5 graded 38x50mm or 38x76mm, or as per the customer's request. Inside cladding is also known as dry walling, and we can paint it to the customer's specifications.
Door – Exterior
Standard double sliding door in aluminium or standard double hardwood French door. Alternatively, you can purchase the doors of your choosing and have them installed by us.
Doors – Inside
Interior doors are made of standard 3,2mm hardboard and are meant for use inside. They are installed on pine frames.
Windows
Pine (standard) timber cottage panes are used to make the windows. Aluminum windows can also be installed at the request of the buyer.
Ceiling
The ceiling board is placed onto the battens, which are spaced 400 mm apart, using a rhino board ceiling with bishop strips. (The insulation is installed in the ceiling cavity.) Only at the customer's request and at an additional expense.
Contact us today to find out more.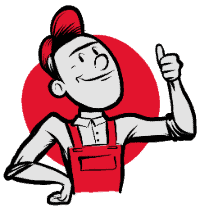 Wendy House Builders Costing Information​