Appliance Repair
Repair of all appliances, big and small and all brands

Fast service, same-day response
Get your appliances repaired today!
Repairs of:
Fridges
Ovens
Freezers
Washing Machines
Dryers
Dishwashers
Stoves
Why you should use a professional when it comes to repairing your appliances:
Save time and money.
Affordable, budget friendly prices.
Original parts for every appliance.
Experienced and trained repair team.
Quick, timely response.
Don't sit with broken appliances any longer, let Local Pros put you in connection with the best appliance repair team to fix all your broken appliances.
Large Appliance Repair
Local Pros service providers are trained in repairing all appliances including:
Dryers
Fridges
Washing Machines
Stoves
Freezers
Dishwashers
Ovens
Request a free quote now!
Dishwasher Repairs
Local Pros can put you in connection with a repair team experienced in repairing dishwashers, Don't wash them by hand, get a repairman!
Signs of a broken dishwasher:
Strange noises
Drainage issues
Not washing dishes properly
Water not heating
Leaving detergent behind
Not filling properly
Leaking
Don't waste your valuable time, call a professional.
Stove and Oven Repair
A broken stove or oven is a huge inconvenience and can be dangerous, do not hesitate to call a repairman.
Common stove and oven issues include:
Oven light does not work
Gas burner is not lighting
Stove plates are not working
Oven trips the mains
Oven does not heat up
If your oven or stove are displaying any of these issues do not hesitate to make an appointment with a local appliance repair pro here.
Refrigerator Repairs
A faulty fridge will not only cause a high electricity bill but also spoil your food.
Signs of a faulty fridge or freezer include:
Not getting cool
Ice buildup
Leaks
Not defrosting
Strange noises
Dryer and Washing Machine Repairs
Don't waste money going to the laundromat, your appliance repair technician can fix any model in no time at all.
LG
Whirlpool
Smeg
Bosch
SpeedQueen
Hisense
Defy
AEG
Siemens
Your local service provider can repair a top-loader, front-loader or commercial washer.
Small Appliance Repairs
Repairing small appliances can be time consuming, Local Pros will put you in connection with a repair technician experienced in all small appliance repair including:
TVs
Microwaves
Vacuums
Blenders
Heaters
Toasters
Frequently Asked Questions
How to tell if my appliance is broken?
Common signs to look out for:
Not working properly
It makes strange noises
Leaks water
Trips the mains
Which areas do you service?
Local Pros have service providers in all major cities in South Africa. Find your local appliance repair technician here.
How long will it take to repair my appliance?
The length of time it takes to repair your appliance will depend on the issue.
How much does appliance repair cost?
The cost of appliance repair is determined by:
The severity of the problem
The duration of the repair
Your location
The type of appliance
Do you use genuine parts?
Yes! Your appliance pro stocks parts for all major brands.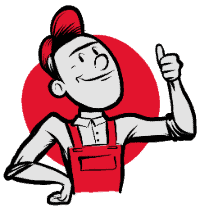 Appliance Repair Costing Information​
The cost of appliance repair work differs based on a variety of factors, including what sort…

The cost of appliance repair varies depending on a variety of factors, including the type of appliance…